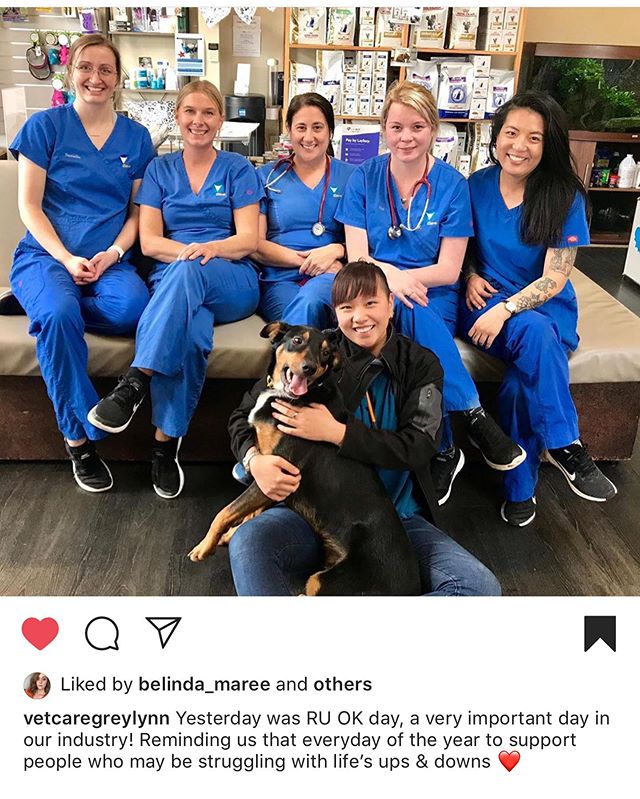 Today is World Mental Health Day, and also Vet Nurse Awareness Week in NZ. I don't usually post anything too personal on here; but a shoutout to my amazing nurses from VetCare Grey Lynn and VetCare Unitec (pictured and not) is in order. Here's to all the bodily fluids you absorb and clean up, cuddles you give, dirty jokes you tell, and for all the fun we have despite the rough times. My job as a vet would be a lot harder without you. ❤️🐶🐱🐰🏥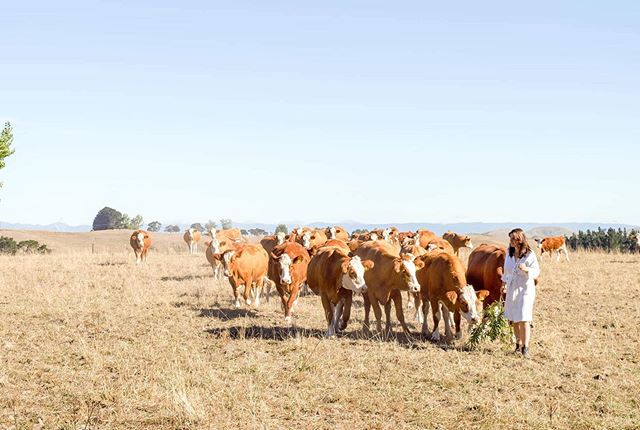 Let's talk | Putting yourself out there takes vulnerability. Vulnerability is hard, and, as a rule, we tend to go for what is easy. By that logic, closing ourselves off is the easiest thing in the world. Especially when it comes to talking about mental health. Being open and honest about my imperfections, being vulnerable, scares me. Publicly owning that I have challenges with my mental health scares me. What also scares me is working as part of two industries (veterinary and agriculture) that have alarmingly high mental illness statistics. I was 16 when I was diagnosed with depression. At my lowest I was a very angry and violent person; I screamed, broke things, put holes in walls, cried endlessly, couldn't sleep. And, I hurt my family. Everything was a blur, I couldn't see a way out, I felt as if I had no control over my own life. My mum had to just about drag me to the doctors. It took me sometime to accept that I was depressed. Nothing 'major' had happened in my life - why should I be depressed? I now realise it was an accumulation of things. There doesn't have to be one thing. There doesn't even have to be any "thing" I spent a year in counselling. My counselor was amazing; she helped me to see things differently, identify triggers, and gave me tools to manage my mental health better. I am an over-thinker, set high standards and often put unecessary pressures on myself. I still have days where, despite having a toolbox full of tricks and techniques, I find myself off-kilter. Life is amazing. Then it's awful. And then it's amazing again. And in between the amazing and awful it's ordinary and mundane and routine. Breathe in the amazing, hold through the awful and relax and exhale during the ordinary. It's normal to feel joyful, excited, enthusiastic, and content. It's also normal to feel vulnerable, anxious, frustrated, overwhelmed and unhappy. And it should be normal to talk about it.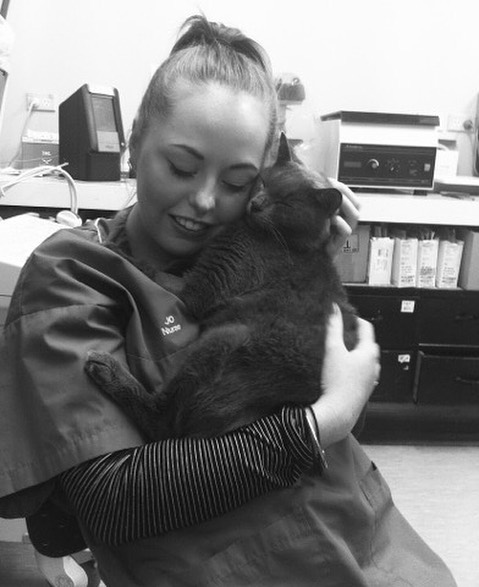 Why I'm Leaving Veterinary Nursing - DISCLAIMER: This is just one nurses opinion. This photo was taken during my first job as a Veterinary Nurse. This is one of the first patients I got really attached to and had been nursing in clinic for weeks. He took a turn for the worst during the same week this photo was taken and didn't make it. I still haven't forgotten how that made me feel. There have been so many like him since too.. that you become so in love with and put your entire being into helping and when they don't make it, it tears you apart, it feels like it's one of your own. Every time. No matter how many times you experience it. The pets we look after aren't just another animal, these are people's babies. Still to this day when I tell people I am a Veterinary Nurse, I get the same response. "Oh so you see cute puppies and kittens all day!" … I wish. One of the major problems that cripples the Veterinary industry is peoples perceptions of what we do. It's not patting kittens and puppies all day, at all. It's having very sick animals' lives on your hands, it's being responsible for restricted medicines, it's having 10 different patients needing your help at once, it's phones ringing constantly and serving people with a smile, it's being yelled at by clients for things out of your control, it's being told it's "YOUR FAULT my animal has died!", it's crying with an animals owners during a euthanasia, it's not sitting down all day, it's cleaning up bodily fluids, it's second guessing and accurately calculating drug doses, it's the vets yelling at you because you forgot to do what they asked you to do half an hour ago because you were busy with other things, it's staying late to finish what needs to be done and taking all of that day's stresses home with you to dwell on. All of this and more we are responsible for. The reason I got into this industry is because animals are my whole life. I knew that I was getting into a low paid job. I went to university, got a diploma of Veterinary Nursing - and a loan that my wage barely touches the sides of. But now that I have been working full time in a variety of clinics for several years - I have learnt that for a
I am a new grad and I handed in my letter of resignation last week because I had reached and blown past my breaking point. I am severely burnt out. Many factors contributed to the final decision, including my anxiety as well as lack of support from management despite trying to work things out. I am saddened that at least 4 to 5 of my classmates are in a similar situation. I have now sought professional help and have started on antidepressants. My sister had to make the appointment because of how unmotivated and procrastinatory I have been. I am still in a bit of shock from the fact that my stress, anxiety and depression were off the charts. The doctor got me to fill out a quick questionnaire as part of my mental health plan. I registered 14 for stress, anxiety and depression when the top end was 10. That was eye-opening. I am so incredibly grateful for the avalanche of love and support from my classmates, family and friends. The first 2 weeks of work were hectic and I wasn't coping. When I brought it up and after they looked at the schedule, they replied that even an experienced vet would've felt the same. That should've raised a little red flag. I pushed on because understandably I thought it was normal to feel overwhelmed as a new grad and thought things will improve with time as I gained experience and built my confidence. I didn't get the 8 week induction I was promised. My mind constantly wondered what other career paths I could be taking. If I took a shower and had dinner, that was a win. I was too exhausted to do anything else, even on my days off. A couple of months ago, I brought up the fact that I was burning out. I was prepared to resign to find something more suitable, but was willing to stay if I could cut back my hours to work on my mental health. They were on board but nothing came of it. Negative changes happened in the work place, 2 other staff members resigned. I recently told them that I had burnt out. My tipping point and the neon sign from the universe came when they tried to squeeze out whatever amount of profit I had left in me. So I am taking a break to recover. When I am ready, I will be re-evaluating where life will take me next.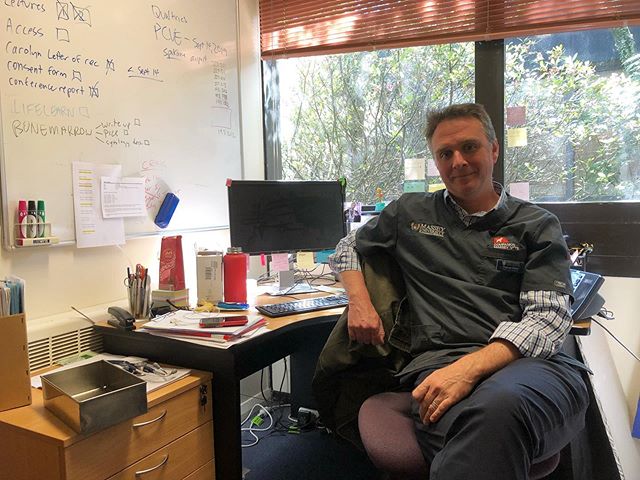 "My daughter's threatening to be a vet. And she's probably the better tempered one for it – my son's a bit of a bro, and super sporty. She's a little bit more thoughtful. I'm trying to do it covertly. I text her weird or cute - mostly cute – animal pictures from the hospital once a day and say this is what I do, but also some weird stuff too, which she might not know I do. I think I'm a pretty good spokesperson for the veterinary industry. I've got issues with being a vet and issues with the profession as a whole, but I think if you do it correctly, if you're smart enough about it.. If you don't beat yourself up too much, if you have a good support system, I think it's a great career. I really do. I really believe that still, 20 years on. You're not going to get rich. "I'm doing this for the money", said no veterinarian ever. If you want to be rolling in dough, maybe this is not for you. But my attitude has always been that it's much better to do something that you love, and be happy that way. No. I wouldn't be anything other than a vet. I wouldn't."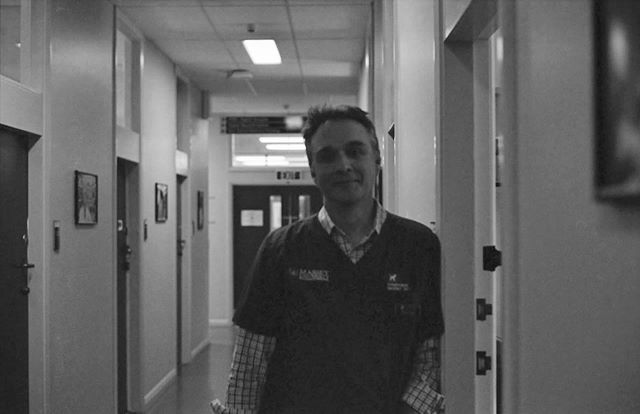 "I think the last time (I came close to burning out) was probably close to 10 years ago now. I had really good staff and really good associates. We had a staff meeting once a week and I just said, I'm burnt. I had compassion fatigue, and I just don't really want to do a lot of this right now. I had been through it before, and I know it would pass. It's like depression – it is depression to some extent, so I altered my habits a bit. I didn't work quite as much, and I really focused on home life. It was me. I was trying to do too much, I would see 30 appointments a day, and work till 7. Then someone would call and I'd say yep, bring them down, yep squeeze that one in, but I have to do performance reviews, and hire that person, and oh by the way, you're getting inspected and the drug log is off. It's the cumulative effect of working so hard that you don't enjoy what you do any more. I take a little bit of issue with the term, work-life balance. This isn't negative for me. I like this. I don't need to do something equally good outside of work to maintain that. I identify as a veterinarian, it's not what I do, it's what I am. It's what I think about. I wake up in the middle of the night thinking about what I'm going to do tomorrow. I wake up in the morning thinking I can't wait to see this dog, it's been a while; I've got these puppies coming in; I need to read up on this surgery. It's on my mind, all the time. I don't need to escape from it. I think it's disingenuous to suggest that to a lot of people. Now if you're in a shitty position, if you're downtrodden and you hate the people you work with and you're not enjoying your job, then I think you need to make some changes right now. But if you're working too hard at something you enjoy, then I think maybe that's a simpler process to manage."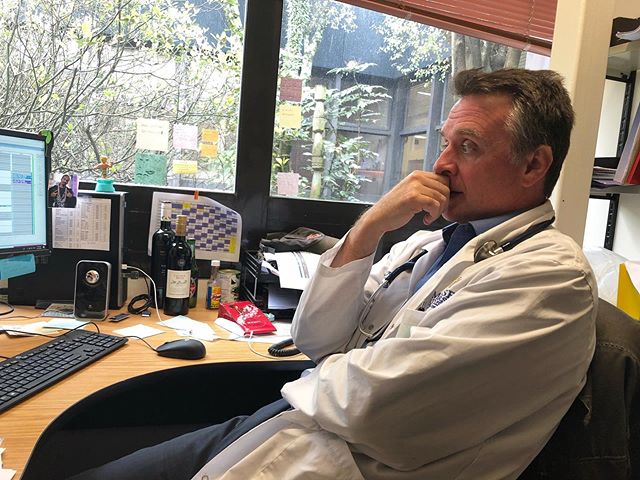 "In my experience.. you just put your head down and work through it.. you kinda deal with it on your own. We're all smart people and we all think of ourselves as reasonably tough, and we work hard, and that's what we do. I think there may be a little bit of a generational thing here. I'm Gen X, raised by baby boomers. You just did the job, and you worked and worked and worked. I think it's perfectly reasonable now to think about what the consequences of that are. I don't think 20 years ago we were talking about this sort of stuff. Am I a perfectionist? Outwardly no, but inwardly yes. I think I'm probably very far from a perfectionist, but at the same time I beat myself up when I don't do things the correct way. And.. The correct way is variable based on what I'm doing. An outcome that I'm happy with – and happy is a moving target. I think over time, and I hope you realise, otherwise you can't do this for very long; you're never going to please everyone, you're never going to do everything correctly, you're always going to learn something, you're going to make mistakes. If you can't come to terms with that, then you're going to burn out."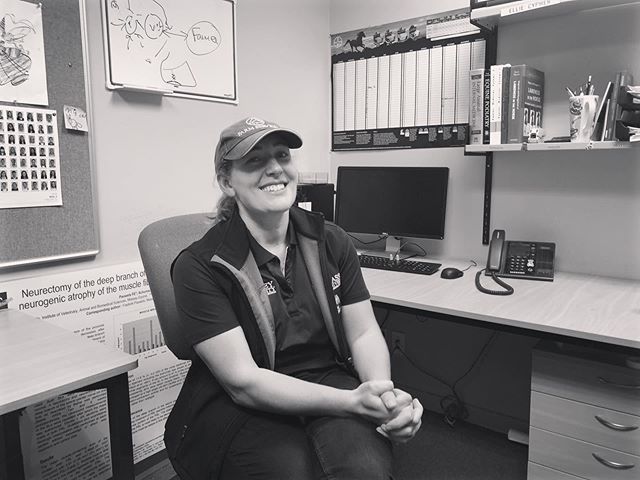 "Veterinary medicine has not done itself a favour by being as compassionate in a business sense. We haven't done a great job in terms of training clients to respect our services. My brother in law is a plumber – if your toilet is broken on a Sunday, you will pay a $300 after-hours fee for that man to come fix your toilet. You're not going to throw a fit and say you don't care about my family's hygiene, you don't care about hygiene, and it should be free because you love toilets! This is not what we say to plumbers. We say thanks mate, god, you're a lifesaver. But if your dog is run over and you need to fix it, there's heartbreak over a bill. We often empathise, and not that we shouldn't, but in the business aspect we have not done a good job valuing ourselves and valuing our services. We have not set an industry standard to say look, this is a professional service, and it will cost you money. You don't go to the fish and chip shop and order it and say, I'll bring my money tomorrow. Why are we expected to do these things? Unfortunately as the kind caring compassionate people, we will do it cos we think we're doing others a favour, but it's a slippery slope. I don't think we should all be heartless robots, but I think some of the big picture grief that the industry suffers over, comes from the finances. It's a hard job. It's a job that takes a lot of skill, and a lot out of you. You can't just cruise."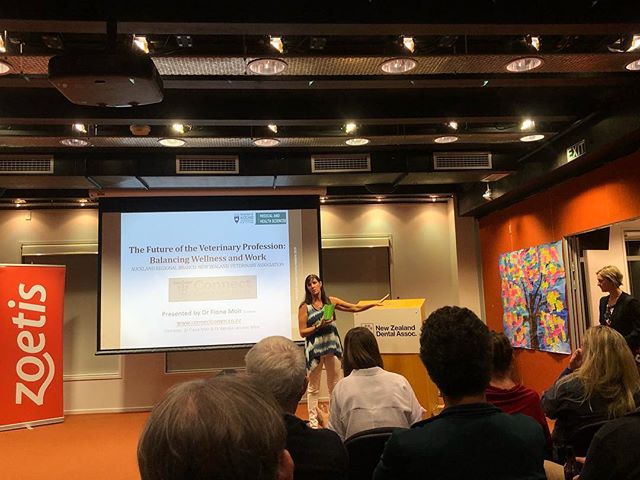 "We work in an amazing and noble profession. But we are diseased. Our attrition rate is higher than any other profession. The good thing is that we have the knowledge, and intelligence, and the heart, and the motivation, to cure this. It's going to be working together, and taking the knowledge and experience of practitioners, and adding that to the value of the unbiased view of new grads, that will change things."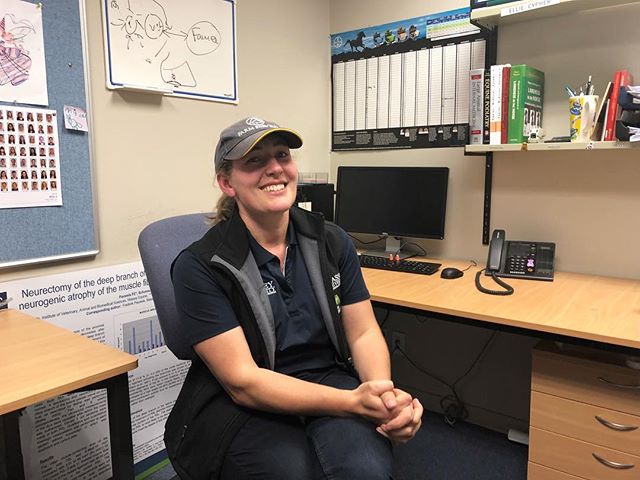 "My first job was terrible. Absolutely horrific. I stayed in it far far longer than I should have. When I took the job, the job that I was taking wasn't the job that ended up being available when I graduated. The senior vet had gone through a very painful and dramatic personal thing, and when I came, he just left me to it. I was at a satellite clinic by myself with one receptionist/tech who was doing her training, and he didn't turn up on my first day, and I had to run the whole clinic by myself.. I had to do farm calls. I didn't live there, I had no idea where everything was. It was really really stressful, but I stayed because I thought I was being resilient. I thought I was tough, and I can do this, and I won't let it break me, and I won't let him win. I was playing a game, but I was the only one playing the game. I thought I was gonna prove myself and make it through that, but all I did was damage myself. The resilient thing to do would have actually been to walk away. But I got myself trapped because I got myself thinking, I can do this, I can do this, I can do this, I can do this… Until I became physically incapacitated and blew a disc in my back pushing myself so hard doing things I shouldn't have been doing. I injured myself really badly, and still suffer from things from it, and that was really a wake up call that this had to stop. Like I said, the resilient thing would have been to get out, but I had tricked myself into thinking that the resilient thing would be to keep going and going, don't fail, don't fail. If I had someone in my life at that point who would have been able to tell me that it's not failing, by walking away from a bad situation – you're still a good vet even if this is not a good job. I did a lot of outreach for the person I was working for. I would say he needs help, come help him; but I should've been saying, come help me, get me out of this!"
"I was on call when I was in practice. I was a whelping bitch magnet. I got whelping bitches pretty much every weekend. I had a really busy weekend on call, it was Sunday 6pm, and I just got back home, and the phone rang. This woman said, I've got two Cavalier King Charles Spaniel bitches that are having trouble whelping! And I was like.. TWO King Charles Spaniels, trouble whelping, 6 o'clock on a Sunday, you can't be serious! Fifteen minute drive back to the clinic, and she was just hopping out of the car with these two bitches, and I was looking at them going.. they look quite skinny. This was weird. Anyway, we took them inside, and I started to palpate them. There were clearly no puppies in there. I said, what makes you think these bitches are whelping? "I've been breeding bitches for 20 years! Don't you try and tell me I don't know what a whelping bitch looks like!!" So I palpated again and was like, look, I'm pretty sure there aren't any puppies in here, what makes you think they are pregnant? And you heard the borborygmus, the rumbly tummy, and she was like "THERE!! THERE!! That's the puppies! They're SCREAMING to be let out!!" So now whenever me and my partner have a rumbly tummy, we're like.. we've got the puppies in the tummy! They're screaming to be let out!"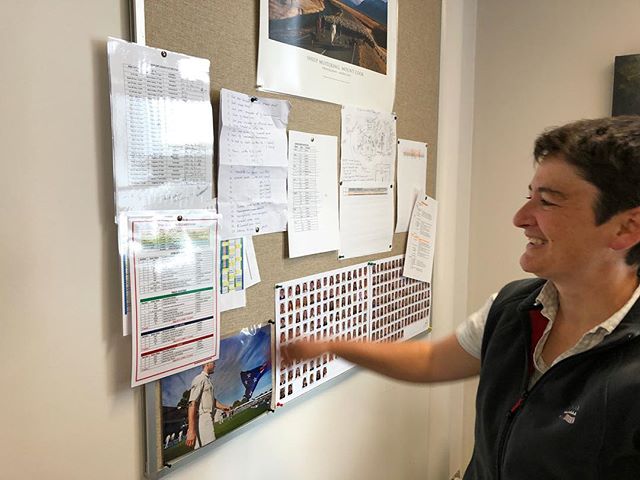 "In some ways I consider myself really resilient, and in others, completely not. If you gave me some negative feedback, I'd just turn into a little jelly and be really upset, and I'd dwell on it forever. I would have real trouble moving on. But in other respects, if I hurt myself I would just crack on. I think it would be the same for everyone though – it's very context-based. I've been really lucky to have really good colleagues in most of my jobs, so I've been very lucky. I'm very big on role models and inspiring people, so if I'm feeling a bit stink or whatever I'll think wow, that person is really awesome, what do they do that I could try? The way you think is not the right way. Peter Wilson, the deer guy said to me when I was young, when I was doing my PhD; that not everyone thinks the way you think. And that was quite a shock to me, cos it has never occurred to me, that not everyone thinks the way I think. Which is stupid eh? I suddenly went oh, and because I'm a very strong personality type, I realised that the way I perceived things is not necessarily the way things are. If I can take a different angle and perceive it in a different way, I'll have a completely different take on it. Brendon McCallum. Sometimes I think, what would Brendon McCallum think? Suddenly instead of being a terrible disastrous thing that I need to go cry about, it's actually an opportunity or whatever."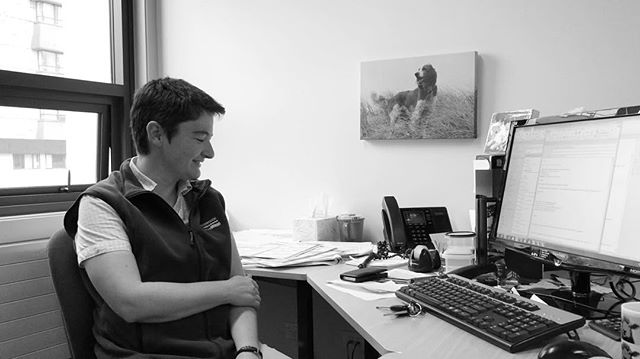 "I think you get to an age and a stage in your life. I'm 42. In theory I won't be able to retire till I'm 67, I'm going to be working for another 25 years. So for me it was like, is this it? For me, I'm very motivated by duty. I wouldn't think of myself as particularly ambitious, but I do things because I fell like I should. I take on roles because I feel like I should, not necessarily because I enjoy them that much. So I got to a stage where I feel a bit lost, so I think it's a good opportunity to go and have some time out and clear my head a little bit. I'm looking forward to not having 5000 things to worry about constantly, particularly when I start. I'll be worrying about do I have enough blood tubes in my truck, how do I find the farm, instead of going crap I need to do that email, get back to that person, have a deadline for that.. My little brain just needs a rest, I think. I'm not doing this because I have any issues with Massey at all. Awesome employer, no beef at all. I'm really lucky they're being really supportive. I think for vets in practice, the same thing could happen too. Rather than go right, this sucks, I'm outta here! Actually go talk to their boss, and say hey look, this isn't working for me – is there things I can do to make it work better for me, or fit my skills better?"